Creating animations may sound like a complicated process that requires technical skill, design ability, and even some programming knowledge. But with today's user-friendly platforms and guided tutorials, it's easier than ever to create professional animations.
Some animation software is best suited for game development, others for creating animated films. So consider what you're most likely to use the software for, and you'll have an easier time choosing between the different features and tools.
Today we look at eight of the best animation software options available.
Adobe Animate (Best for beginners)
Crello (Best for social media graphics)
Unity (Best for 3D and 2D games)
Powtoon (User-friendly animation creation)
Autodesk Maya (Best for 3D animations)
Blender (Best for professional animators)
Cinema 4D (High-quality motion graphics)
Toon Boom Harmony (Best for cartoon animation)
What makes great animation software?
Below are a few of the necessary features that quality animation software should have. Keep these in mind when making your decision.
Pre-installed templates: Libraries of characters, templates, backgrounds, and graphics speed up the creation process and make your work more accessible if you are new to animation.
Drawing tools: Brushes and blending tools bring your animation creations to life and help make them more convincing and exciting. The options to customize or import brushes are helpful when you want to create particular designs.
Audio editing: platforms that allow you to edit audio directly in the software, rather than import or export it, make life easier.
Import and export functionality: You will probably need to import files in one format and then export animations in another format, depending on how you store and share them.
Device support: Some software options have mobile apps for editing on the go, while others are limited to desktop use.
8 best animation software options
1. Adobe Animate (Best for beginners)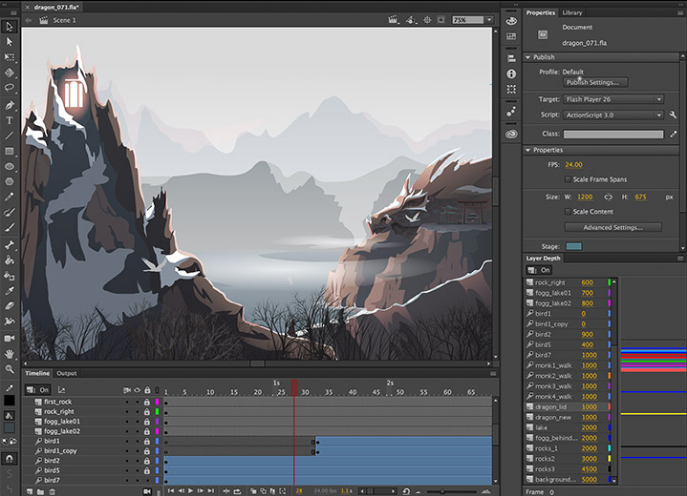 If you know with various other Adobe products, you will find it easy to navigate the software's user-friendly and straightforward interface.
Adobe Animate lets you create interactive animations for games, TV shows, and the web.
Adobe Fresco's live brushes let you draw expressive characters that blink, talk, and walk with frame-by-frame animation.
The asset panel offers pre-made characters, backgrounds, audio rigs, and motion assets to help you work faster. The software's handy tutorial is perfect if you're just starting, as it walks you through the basics of creating your first animation.
You can quickly post your animations on social media platforms like YouTube and Twitter to share with your followers. It's also easy to reach audiences on desktop, mobile, and TV by exporting animations to various platforms, including HTML5 Canvas, Flash/Adobe AIR, WebGL, and custom platforms such as SVG.
2. Crello (Best for social media graphics)
If your top priority is creating motion graphics for attention-grabbing posts and stories on social media, Crello could be the most influential animation software for you.
Crello has an extensive library of more than 8,000 pre-made animations, objects, and backgrounds that allow you to create shareable animations quickly. The software is best suited for creating moving ads, logos, and Facebook banners.
The platform is beginner-friendly and is also suitable for people without design or programming skills. It's also easy to resize and crop videos within the platform, so you don't have to worry about extra downloads and steps.
Animation effects such as zoom-in, fly-in, and fade-in are easy to apply to graphics. Select the section you wish to animate and choose the animation impact from a pop-up menu.
Because of its social media focus, Crello is best suited for freelancers, solopreneurs, and marketers who want to add some movement to their social media posts.
3. Unity (Best for 3D and 2D games)
Unity animation software is designed to help game developers quickly prototype and scale games for release.
A highly scriptable pipeline and shader graph make it easy to design any 2D or 3D animation. Real-time rendering allows for faster feedback during development – any changes to the design are immediately visible in production. You can also render 4K resolution in milliseconds.
The editor makes it easy to see how the game will look to players. The "view mode" and "play mode" allow you to inspect and analyze game objects while the game is running and fix bugs.
New game developers can access free resources, forums, documentation, and tutorials to get the most out of the platform.
Unity's editing and sequencing tools make it easy for developers to bring animations to life without programming. Control timing, angles, motion, and cues in real-time.
As a cross-platform software, Unity is compatible with most devices – you can run it on Windows, Mac, Android, IOS, and Linux.
4. Powtoon (User-friendly animation creation)
The visual communication platform Powtoon offers a powerful and free animation generator as part of a comprehensive toolset that includes presentations, videos, and whiteboard doodling.
It's easy to get started, as Powtoon includes a free library of hundreds of templates to help you get started with your projects. Choose from ready-made characters, animations, and footage. You can also easily upload your images and videos and customize them with just a few clicks.
If you want to move seamlessly between different platforms, there are integrations with Canva, Adobe, HubSpot, and PowerPoint.
Once you're done, you can publish your animation directly to your social media platforms and website.
5. Autodesk Maya (Best for 3D animations)
Autodesk Maya is a 3D animation, modeling, rendering, and simulation software best known for creating realistic worlds, compelling characters, and stunning special effects.
The Bifrost visual programming environment is ideal for creating highly accurate and detailed environments. Pre-built diagrams make it easy to create visually stunning effects such as snow and dust storms.
Maya stands out for its first-class 3D modeling capabilities. Polygon modeling lets you create 3D models with geometry based on vertices, edges, and faces. NURB modeling allows you to create 3D models from geometric primitives and drawn curves.
Another cool feature is the ghosting editor, which allows you to see animated objects' exact movement and position over time.
Rigging, skinning, and retargeting help you create, bind and transfer characters with precision.
Advanced creators can include scripts and plugins to customize the program to their individual needs.
6. Blender (Best for professional animators)
Blender is an open-source and free 3D animation software. Blender is community-managed and has hundreds of contributors such as scientists, artists, and animators who update the software by developing new plug-ins and tools.
Advanced rigging tools include envelopes, skeletons, and automatic skinning. There is also easy weight painting, a mirror function, and bone layers for the organization.
The built-in brush selection includes Crease, Clay Strips, Pinch, Smooth, Mask, Grab to make animations incredibly lifelike. Advanced animators can also customize the brushes to suit their individual design needs.
Use the shape buttons to tweak facial expressions, sculpt muscle areas and refine skeletal rigs. If you are looking for customizable software that adapts to your project requirements, Blender is a good choice.
7. Cinema 4D (High-quality motion graphics)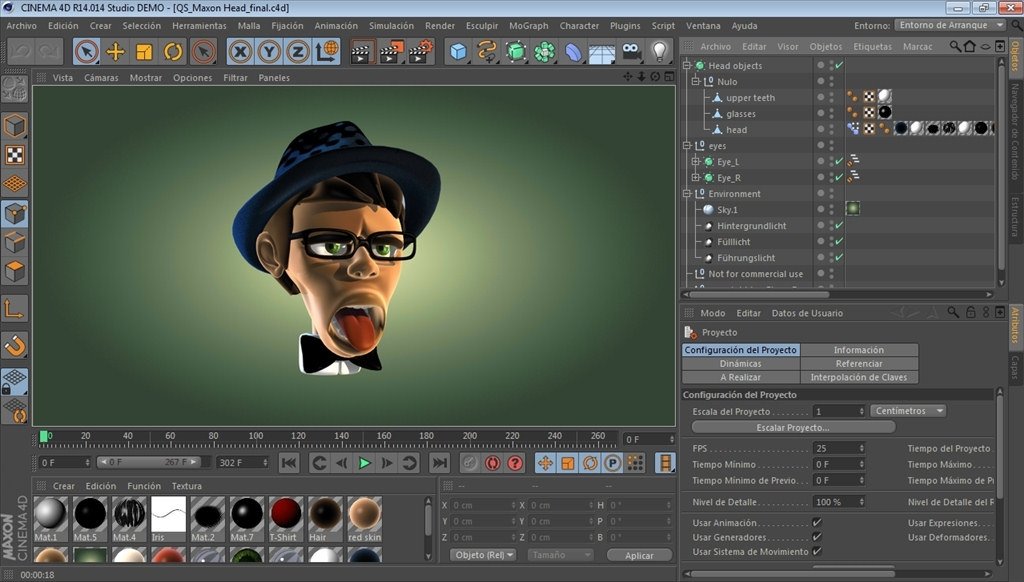 Cinema 4D is software for 3D animation, modeling, simulation, and rendering.
Keyframing makes it easy and intuitive to animate objects – click on the circle next to any object and transform it into a lifelike animation. The powerslider lets you quickly define keyframes for the current state in each frame and change existing keyframes without leaving the default layout.
A handy timeline window gives you more control with tracks for each animatable parameter and options like layers to control the presence and arrange things, keyframes, and tracks.
Use Cinema 4D's effectors, tags, and expressions to animate without keyframes. Choose between presets to get you started and create your expressions in the node-based Xpressor editor or via Python programming.
The wide range of tools, functions, and presets make Cinema 4D ideal for experienced professionals and beginners who still need to learn.
8. Toon Boom Harmony (Best for cartoon animation)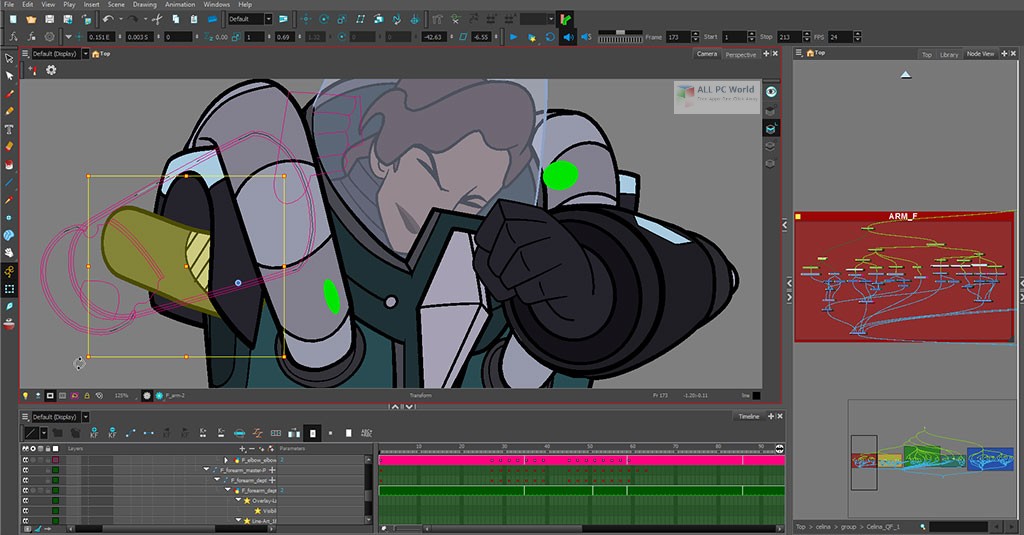 Popular with cartoonists, Toon Boom Harmony is behind our favorite animated TV shows such as Spongebob Squarepants, The Simpsons and Rick, and Morty.
With the premium Onion Skinning feature, you can see the previous drawing under the following sketch to create seamless movements and transitions.
Advanced lighting and shading tools let you create depth and volume, while the weighted deformation node allows for smooth texture deformation and ultimately more realistic animations.
Multiple import and export functions make it easy to upload your paper drawings or digital images in more than 13 different file types.
However, it would be best to feel comfortable starting from scratch – Toon Boom Harmony does not currently include any pre-made figures.
Enjoy the post? Fast track implementation by purchasing our Explainer Animation Videos
Read More: Video Sales Letters: Your Complete Guide for 2021