Grab Your
Free

Funnel and Video Sales Letter Script Now
I know it can be challenging work to keep delivering creative video ideas! And with most people having a demanding work/life balance these days, it can be hard to maintain innovative content, especially in the face of business pressures. So if you, like many others, struggle with creative block, you're not alone! Consider this guide an instruction manual designed to help you kick-start your idea engine and get the creative juices owing again.
Here's how to come up with great
video ideas
Ideas for new videos can come from anywhere. Get inspired in your everyday life, and look for ideas from friends, colleagues, employees, customers, and clients. You should also invest time exploring YouTube and looking at many different types of videos that other businesses and individuals have produced.
The core concepts for your videos should excite you (and your target audience). They need to be original, creative, engaging, thought-provoking, entertaining, and informative while being of direct interest to your target audience. One way to start brainstorming is to find out what your competition is already doing and then think about how you can do that better or differently in your videos.
With so much content already available on YouTube, it will be challenging to find truly unique ideas. Instead, concentrate on how you can make your ideas stand out from what's already out there. Don't hesitate to jump on the bandwagon and use currently popular videos as inspiration, as long as you're able and ready to add a unique, initial, or compelling twist. If you choose to use other videos as inspiration, make sure you don't infringe on anyone else's copyrights, intellectual property, or trademarks when producing your videos.
Once you have settled on the general theme of the content of your overall goals for the video, have defined your target audience, and have outlined your main message, it's time to brainstorm ideas for individual videos. First, determine what you want to say. Then, based on your video production knowledge, equipment, and skills, consider how best to present that content.
For each potential idea that comes to mind, ask yourself the following questions
Keep asking yourself these questions throughout the pre-production phase and later during postproduction to ensure you're on the right track.
In answering these questions, you'll often need to tweak your original ideas to turn them into something more viable or fits better with your message, call to action, and overall goals. However, when evaluating your ideas, think about how you can present your content in a creative, unusual, and original way that is fun and memorable.
Then, before you invest too much time or money in the pre-production phase, discuss your ideas with others who know you, your company, its products/services, your target audience, and your online goals. Sharing ideas with other creative people you trust will help you see things from different perspectives that could affect how your videos are perceived and accepted by your audience.
If your goal is to create a YouTube channel and fill it with new videos regularly, you may want to develop a list of concepts for your first ten or more videos during this early brainstorming phase. As you develop ideas in the future, you should write them down to refer back to your ideas later.
Brainstorming techniques

to find ideas
There are various brainstorming techniques that you can use right away. We'll list some of them that you can try for yourself. We'll also give you some tips to keep in mind when developing video ideas and help you decide when to discard an idea.
1. Conscious Brainstorming
The process of brainstorming involves allowing your brain to run wild. However, the overthinking that comes with the process tends to stall the innovative process, affecting its overall efficiency.
Stream of consciousness brainstorming avoids overthinking by requiring you to note down your thoughts within the allocated time. Open a Word document or get hold of a piece of paper and a pen. Set a time limit and write down as many thoughts or ideas as you can manage during the writing stage. Write down words over and over again. The point of this technique is that you don't have time to stop and think about what you've written. During the time you are writing, you are thinking freely.
At that point, you shouldn't be worrying about whether or not an idea is terrible or whether it will work.
After the rapid writing stage lapses, you can review everything you've written to see if you have an idea for a video or a starting point that you can build on.
If you don't know what you want your video to be about, look at what's trending right now. Search Google Trends to get concepts based on what's popular right now. That will help you to better understand what people are searching for and help you meet the demand. Also, your video might get more views because the topic is popular and more people are searching for content on that topic.
If you have a problem coming up with ideas, turn to others. You can ask people who view your videos for ideas for future content. You can also check out the comments on previous videos you've uploaded or feedback from customers. Often, people will either ask for future content or ask a question you can address in a video.
Humans are creatures of habit. Ideas come from experiences and sensations we have. When we are taken out of our convenience zone and try something new, we experience things we have never felt before. If you can't think of ideas, maybe you should try doing something new that you've never done before in your real life.
When should you
discard an idea

?
There comes a time when you have to look at it realistic ideas. While you might love to live stream from the bottom of the ocean, it's probably not possible. It would be best to weigh how much time, effort, and money you are willing to invest in a project. It would be great if you also looked into the laws to make sure your illegal ideas.
Find a balance between something popular and something that interests you. An idea might be feasible for you, but you might find that it doesn't interest you.
A video might become more popular because you're following a trend, but you won't get the right people interested in your work if the topic doesn't interest you. They may like the one video you made, but they may not regularly watch your post content.
Nine creative
video ideas

to get you started
1. Make a whiteboard video
Whiteboard videos are an excellent method to build from pure on-camera contributions and still engage an audience. Whiteboard videos are a kind of explainer video that uses hand-drawn or animated illustrations to explain to viewers how something works. They are short, get direct to the point, and end with a clear call to action.
Tips and tricks videos have a fantastic range, from super-short snack videos on YouTube to longer content with valuable, repeatable advice when it comes to shortcuts. They're also great for building brand trust, as it's easy to share expertise as you solve problems.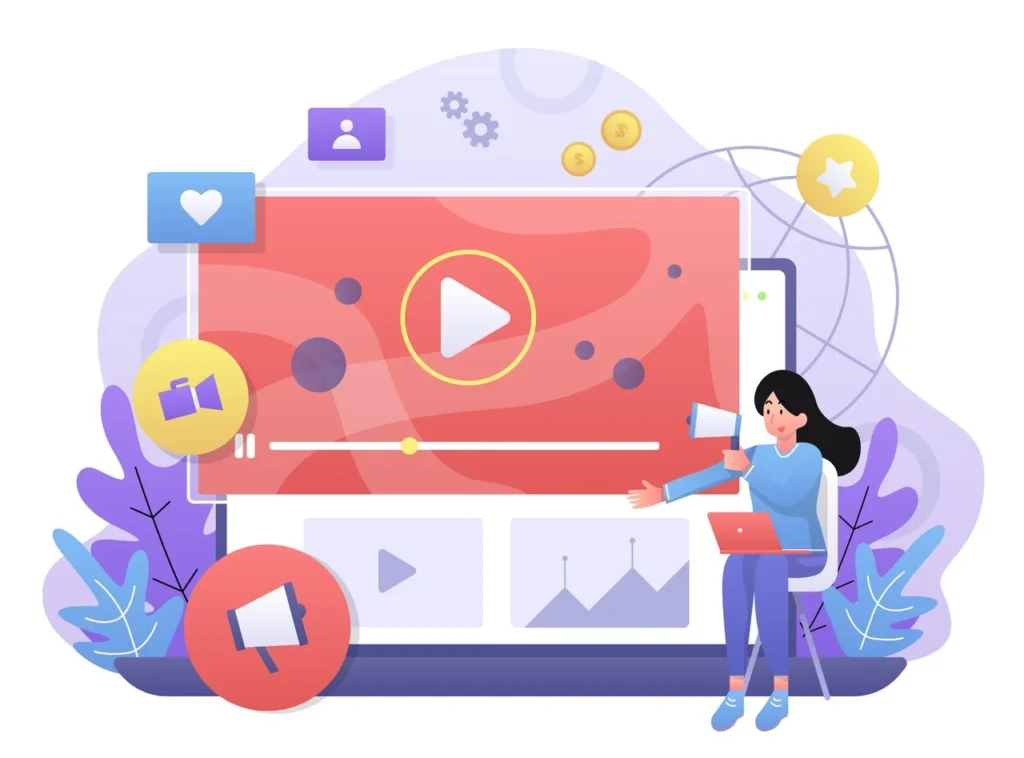 3. Look behind the scenes
If you're searching for creative YouTube video ideas, BTS videos are the way to go. These exclusive videos often serve as an additional marketing tool for new campaigns or events by giving viewers a glimpse into something they wouldn't usually have access to. They are especially effective when paired with celebrities, experts, or influencers.
The best thing about time-lapse videos is that you can record them on your phone, as most modern smartphones have a time-lapse feature (if not, there are free apps). Time-lapses help give context to processes and transitions, such as videos of office buildings, construction, event preparations, etc. The most important tip here is to place your phone – or camera – on a stable surface so that the recording is unobstructed, i.e., there are no bumps or shocks.
Animated videos can be used in many ways, from simple typography animations to animated illustrations, at icons, and even videos with full character animation. Animations are an alternative to human talent and are great for conveying concepts in explainer and storytelling videos and for content aimed at younger audiences because they look like cartoons.
Storytelling is an essential part of a video in advertising and marketing (as well as film and television) and has been since its inception. Video's inherent use of audiovisuals to create emotional connections between viewers and content means that stories with a beginning, middle, and end are told repeatedly.
Parody videos use comedy to make fun of people or situations. However, brands that parody themselves are very appealing because they show a sense of humor (and humility)! If you're a brand, follow fair use guidelines for existing content.
8. Shoot a publicity stunt
Publicity stunt videos are pre-planned events designed to attract attention and raise awareness for a brand or new product. The best stunts are big, bold, and have a creative air – the kind of videos that go viral thanks to their originality and boldness, especially in marketing. So think big!
Don't forget to ask viewers what they'd like to see. Audience participation is key to quality engagement and a great way to gather creative ideas for YouTube videos. 
Ways to be
creative in your videos
Have fun with your script
First, simplify the language of your script – take a step back as if you were talking to a friend across a table at a coffee shop. Then think about where you can inject humor, such as telling a joke (making fun of yourself can be a fun technique).
Think creatively about the visuals
If your videos have only consisted of on-camera parts or interviews with one person, now is the time to add some variety. One option is to do something while talking instead of just being on camera. You can also play with quick cuts (this is where B-rolls come in) that show what you're saying, with visual flourishes that help break up large blocks of speech.
The most important thing is getting your voice right, which is the foundation for all the additions when it comes to audio. And it's not just background music you should experiment with. With editing ideas like sound effects, you can add a contextual audio layer for on-screen actions or messages (as well as gags).
For the best video ideas contact us at WhiteboardVideoAnimationService.com today.
Make your videos in three different formats
Our tool is simple and fast. In just one click you can convert your landscape videos to the vertical or square format.
Turn your video idea into any of the three formats that Wideo offers effortlessly.
Need help creating your videos?
Talk to our Video Pros and get a quote on an editable video of your own.
Bonnie
Video Animator Manager
Frequently Asked Questions
(FAQs)
The most popular type of videos and the ones that have more views are Vlogs, comedy, gaming, educational, "Best of…", Product reviews and How-to videos.
YouTube is by far the best way to find incredible video ideas. The YouTube search is a powerful tool to understand what people are looking for. Every time you come up with an idea, search the keyword on YouTube and see which kind of videos appear in the search.
Always be looking around and writing ideas you find interesting. The key to having great video ideas is capturing tons of mediocre or bad ideas and then you can easily create your own video taking the good stuff for yourself.
Creating a video from scratch can be exhausting and challenging. Watching video examples made by others can be a great opportunity to take some ideas from them.