Explainer Animation Videos
Grab Your
Free

Funnel and Video Sales Letter Script Now
An explainer video is a short internet marketing video utilized to explain your company's product or service. These videos are typically placed on a landing page, your website's home page, or the main product page. Explainer videos have become significantly preferred – some websites boast conversion rates enhanced by as much as 144% after consisting of an explainer video on their website.
If your business is having difficulty expressing what it does to be easily understood by potential customers, then an explainer video is for you. An animated explainer video harnessed both the visual and auditory senses together, increasing retention rates and clarifying their value proposition in a clear expression.
Crafts simple, compelling videos that enhance memory retention. This two-pronged approach gives new data several different avenues to enter long-term memory, which increases the retention of new information overall. Explainer videos harness brain science's understanding and stimulate the visual and auditory senses. By mixing unfamiliar suggestions with familiar ones, stories told through video assist in introducing viewers to new concepts. An explainer video provides consumers a reason to care about a business.
Animation explainer videos allow for more creativity and are easier to edit or update when you want to make future adjustments. The popularity of explainer animation videos comes from the fact that animation easily explains services or intangible tech products like software. Some services involve few, if any, physical objects, making live-action an unrealistic option.
Your business, big or small, can tap into this ever-growing audience today by creating an explainer video with Whiteboard Animation Service. Using the explainer animated video can establish your message and catch your audience's attention immediately, which starts a conversation. All in 30 seconds flat.
Whiteboard Animation Service can provide you with unique style design and services, which are a big hit in millennial audiences. Explain what your products and services do. 100% custom-made arts with no limit on the variety of versions until you are satisfied and happy with the output.
Your viewers will have things to inquire about, and your sales team will be able to elaborate on shown features.
Reasons why your B2B Company needs an
animated explainer video
Videos are the best combination of entertainment and storytelling to explain a product or service's benefits creatively. Video content simplifies complex issues and makes long operation manuals, business strategies, and advanced technological processes easier to digest. Animated explainer videos allow marketers to present even the most complicated ideas coherently yet entertainingly. With a straightforward narrative, simple but engaging graphics, and clear and concise call-to-action messages, animated video is an excellent method to tell a story and turn even the dullest topics into interesting ones.
Every business owner desires their business, from asset monitoring firms and financial investment institutions to marketing and advertising firms, software companies, and consulting firms. Watching a short video helps reduce information overload. It is essential when targeting executives who rarely have the time to go through a whole stack of facts, figures, and data, getting lost in clichés, marketing jargon, and complex terminology. They won't even skim your presentation because they'll be inundated with advertising and marketing messages.
With all competing for the attention of senior executives, their assistants often have to filter out irrelevant detail, junk mail, and unwanted visitors and calls. But executives are like all of us – they need the information to make decisions. And information organized in a meaningful way that has a better chance of grabbing the attention of top executives. They can be hard to reach, but capturing their interest is even more challenging.
For you as a B2B company, this means that how you present your company matters. For example, offering targeted, focused, and engaging video content can be a strategic move towards successfully delivering intended information. Whether you want to get the attention of decision-makers, simplify complicated processes, or get your message across more effectively, here are nine reasons you should incorporate an animated explainer video into your marketing strategy.
We as humans are naturally attracted to colors, sounds, and movements, which is why video content tends to grab our attention. The majority of us are visual and auditory learners, which reads, as research shows. About 40 percent of college students prefer visual content in demonstrations, movies, timelines, flowcharts, diagrams, and photos. Aesthetic information, mainly, is processed by the brain much faster than other stimulations. A study by the Institute of Technology researchers reveals that the mind can process pictures in as little as 13 nanoseconds.
Advertisers can capitalize on our visual and auditory attention by taking advantage of our visual and auditory abilities. Most of us immediately recognize an object if it is oriented differently, has a different shape, size, color, or moves swiftly. Sounds likewise differ in strength, pitch, and regularity, and aurally unique audios are more likely to grab our interest. Video clip uses countless possibilities to use visual cues, such as contrasting colors and various shapes, relocating or fading items, and unforeseen associations. It can also use sound to create continuity, emphasize a mood, put the viewer in an illusion, and enhance the narrative.
2. Soft marketing through storytelling
Animation is associated with marketing the least than other advertising mediums, including live video. There are many benefits to using a soft-sell approach, a more conversational, no-pressure approach with subtle language. The goal is to build relationships by telling inspiring, creative, and authentic stories. Storytelling conveys messages in a manner that makes them easier to share. It is a powerful communication tool that allows people to empathize with others' life experiences and journeys, happiness, pain, struggle, hard work, emotional turmoil, rips of happiness, and alleviation.
Video web content offers limitless chances to inform a psychological story. They create characters to show how the events can push them in new and unexpected directions. When the characters are more than what they like or know, people begin to relate to them. As the story unfolds, the customer learns about their interests and what is important to them, and the reasons behind those interests and desires.
Video allows you to develop a compelling story that captivates viewers. The characters travel from their fantasy world to the viewers' imaginary world and live there like good old friend who is a reflection of themselves and their values. That is the kind of connection we want to build, so we tell stories.
In marketing, storytelling is no longer about a product but the consumer experience. Stories assistance bridge the gap between brand names and consumers, yet only if they are authentic. People love heroes, champions, and protectors but also want to see their vulnerability and fragility. People want to see from heroes that their lives are pulled in different directions, just like everyone else's.
We all make bad decisions that can have serious consequences, which makes us human. Our good or bad choices affect our relationships, safety and health, how we spend our time, and what direction we take. A story with that human element allows people to immerse themselves in the story, empathize, associate, and be emotionally involved. Behind every successful marketing, the project is a powerful tale of hardship and discomfort, and the decision will guarantee a better future.
3. Animated explainer videos are not just about the script
Unlike other forms of video that depend more intensely on conversations held on a stage. The only limit to your options here is your imagination. You can depict an old, bent, rectangular, or circular knight who has always dreamed of a peaceful life with the lady of his heart but can't stay at home when the king and all the other knights are fighting in the crusades. Characters can dance, fly, or sail across the seas; the story can take place anywhere and time.
Or have pirates sailing the seas, attacking ships and coastal towns, and drinking rum. A story is full of dirt and harshness, in which you suddenly realize that these are ordinary people who turn to crime to make ends meet.
4. Choice of genre and style
There are a variety of video animation styles and genres you can choose from to make your video more engaging and memorable. Some of the most influential and popular animation styles include 3D animation, stop motion, motion graphics, whiteboard animated characters, and cartoon-style videos. 3D and motion graphics are ideal when explaining abstract concepts and ideas. Stop-motion animation is usually used by brands in creative industries such as arts and crafts, performance art, fashion, design, advertising, and promotion. Animated characters help humanize your brand and build a deeper connection with your audience.
5. Animations simplify complex ideas and processes
A great benefit of animated explainer videos is that they make complex ideas look simple. Some things we use every day have become possible thanks to the development of advanced algorithms. Think about money transfers, for instance. We can send out cash from one savings account to another without a basic understanding of the challenging algorithms that financial institutions utilize. Even if we attempt to learn more about the steps and processes involved, this information is difficult to grasp and understand without expert knowledge.
The reality is that complex technological processes drive many things we use. Companies also need to explain such processes, systems, and procedures in a way that is easy to understand. An animated explainer video is one method to present a product to potential partners and customers.
6. Executives watch videos
Videos are increasingly becoming an essential source of information for executives. Research by Forbes and Google shows that more than 80 percent of executives watch more videos than they did a year ago. Three-quarters of respondents also say they visit business-related websites at least once a week to watch videos. The most common types of video content execs enjoy on company sites consist of news reports (74 percent), experienced advice and business insights (64 percent), panel discussions, event presentations, and speeches (57 percent). The most crucial channel for 52 percent of executives is YouTube. About a third of 28 percent of executives watch product demonstrations on YouTube, and 24 percent watch how-to videos.
In addition, companies looking to appeal to senior management should consider what managers anticipate seeing. The survey shows that senior execs choose a mix of video and text and use multiple channels to access information, such as YouTube for customer testimonials and company websites for news material. Providing both video and message can help get to and involve a broader audience that might otherwise search for information through multiple channels.
Explainer videos are the top choice for consumers who want to learn more about a particular product. According to Wyzowl's Video Marketing Statistics 2021 report, 96 percent of consumers watch explainer videos to learn more about a service or product, and 84 percent say they purchased a product after watching a brand video. Seventy-nine percent of respondents also said she convinced them to download or purchase an app or software.
When asked what format they like best, 69 percent of respondents said they prefer short videos. In contrast, only 4% of consumers would look at an infographic, and 18 percent prefer written content in a post, website, or article.
The survey also shows that consumers are twice as likely to share explainer video clips than other material forms, including product web pages, posts, articles, and social media blog posts.
8. Explainer videos are functional
Developing animated videos is an excellent method to explain the essence of your business or product in just 1 to 2 minutes. Explainer videos are also very versatile and can be used to showcase a new product or idea, for paid advertising on social media, or as part of your email marketing campaign. You can also create a video ad, a product or company demonstration, a brand film, a tutorial, or a behind-the-scenes video.
Generally, video content falls into three broad categories: Education, Engagement, and Awareness. Explainer videos help brands teach consumers in a how-to video or a consumer case study. The objective is to generate an emotional reaction when the focus is on engagement, whether through a share, comment, or like. Awareness videos allow brands to connect with customers and explain who they are, what they do, and why they do it. They can also use awareness videos to share first-hand accounts or a story of change, draw attention to essential issues, and increase brand visibility. Examples include videos to get to know the team or company culture, recaps, and interviews.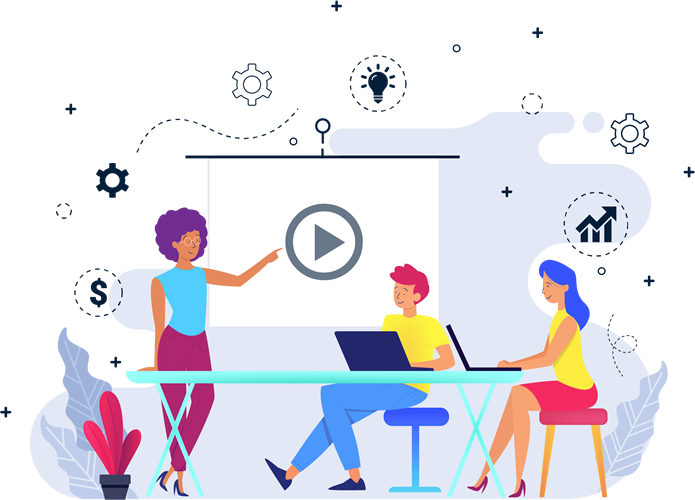 The advantage of explainer videos is that you can connect with any audience and people from all walks of life. That can be helpful when you target consumers from a wide range of demographics. You don't necessarily need human personalities that a specific category of customers can identify with. Think mascots like Milka's cow, Pom Bear, Tony the Tiger, or Sony the Cuckoo Bird. Animation offers virtually endless possibilities for character design.
If you require targeted video content, there are handy tools to help you identify consumers who might be interested in your product. The four primary types are geographic, behavior, psychographics, and demographic.
Market segmentation, for example, lets you divide your audience into smaller categories based on location, interests, and demographics. Psychographic segmentation helps identify customers based on conscious and subconscious beliefs, lifestyle, attitudes, values, and personality traits. Behavioral segmentation focuses on brand interactions, status, spending, and buying practices. The 3rd kind, geographical division, classifies customers based on rural, urban, living, and climate. Finally, demographic segmentation relies on statistical data on education, income, marital status, gender, age, and ethnicity.
Short explainer videos help companies simplify complex ideas and tell stories to grab attention and make their message stand out from the noise. In many cases, the service or product you're offering is intangible. Think downloadable music, financial and business services, brokerage services, trucking, and travel. An animated explainer film can help present concepts, processes, and abstract ideas when marketing intangible products. State-of-the-art businesses use brief videos to explain how their items function and the benefits they offer customers.
Customers make purchasing decisions based on the perceived benefits a product offers. The intelligent features, ease of use, or ad-free interface are additional features consumers enjoy when buying the TV. Ultimately, a product solves problems and improves users' lives. However, sometimes the benefits of a service or product aren't immediately obvious, or it just looks boring. With an explainer video, marketers can quickly explain the benefits customers seek.
Once you've created an animated explainer, you can reuse it by converting graphics into an animated or static infographic or PowerPoint or creating multiple short videos to share on social media. The ability to reuse provides marketers with opportunities to generate organic traffic to your landing page or original video. That is also a great way to invite customers to visit your website.
For the Best
Explainer Videos

contact whiteboardvideoanimationservice.com today!
Step 1:
Review The Video Styles
(Check out the video styles – they are just demos to give you an idea. We fully customize them to your needs – Just make a note of the video title and style, or we can choose for you)
(Check out the video styles – they are just demos to give you an idea. We fully customize them to your needs – Just make a note of the video title and style, or we can choose for you)
Step 3:
Send us your Website Link via our Support Desk
(With any style preferences you have, our service is COMPLETELY done for you – you don't need to do anything at all!)
Grab Your
Free

Funnel and Video Sales Letter Script Now
All Unlimited With:
No Restrictions!
Listen to what others are saying about how easy and intuitive Whiteboard Animation Video Is...
Whiteboard, thank you for the great videos. They are suitable for my website and social media. They look professional, and the cost of the subscription is reasonable.
I look forward to next month!
Don't wait – purchase now, or you might miss out!
We looked all over the country to discover the whiteboard-style fun animated videos. The quality of the product and the low subscription cost is a true no-brainer. And the best bit – Whiteboard does it all for you! I have recommended it numerous times already.
Whiteboard Video Animation Service was great to work with. They interpreted our needs perfectly. The professional videos showcase our company beautifully. Ordering was straightforward, select the video number, share your website or some details on your service and they go to work.
Step 1:
Review The Video Styles
(Check out the video styles – they are just demos to give you an idea. We fully customize them to your needs – Just make a note of the video title and style, or we can choose for you)
(Check out the video styles – they are just demos to give you an idea. We fully customize them to your needs – Just make a note of the video title and style, or we can choose for you)
Step 3:
Send us your Website Link via our Support Desk
(With any style preferences you have, our service is COMPLETELY done for you – you don't need to do anything at all!)
Grab Your
Free

Funnel and Video Sales Letter Script Now
All Unlimited With:
No Restrictions!
For Custom Animated Explainer Videos
Frequently Asked Questions
(FAQs)